If you're looking for a high-end sewing machine, you will want to consider Janome's affordable models. Janome has a long history as an innovative and advanced sewing machine manufacturer. Of course, you will also want to consider Janome sewing machine prices and how much it costs to buy these models!
Janome sewing machines range in price from under $200 to $8,000. Janome makes advanced computerized sewing machines, sergers, quilting machines, and embroidery machines. In addition, the brand offers affordable quality machines with varying levels of advanced technology.
In this article, you will find out everything you need to know about Janome sewing machine prices. You will learn what Janome model is the most and least expensive sewing machine. Finally, you will find tips on where to buy Janome sewing machines near you.
What are Janome Sewing Machines?
Founded way back in 1925 by Yasaku Ose, Janome quickly became a famous Japanese sewing machine company. It gets its name from the Japanese phrase meaning "snake eyes" because Ose invented a round bobbin to go in Janome's original sewing machines. In fact, Janome has made a name for itself ever since by coming up with innovative new sewing machine components.
In its heyday during the 1950s and 60s, Janome launched a special research center just for developing creative sewing machine ideas. The company sold the first-ever programmable sewing machine when computers were invented, too!
Because of the company's commitment to cutting-edge technology, Janome sewing machines have a reputation as advanced high-end models. Many people who sew professionally, such as tailors or home business owners, prefer Janome models for this reason.
On the other hand, the Janome brand also markets itself as affordably luxurious. Unlike Pfaff and Bernina, high-end sewing machine brands that sell some models that cost as much as $20,000, Janome sewing machines fall in a more reasonable price range for the home sewer.
If you spend a lot of time at your sewing machine, you may find more joy in your sewing or save a lot of time for your business with a high-quality sewing machine. Janome machines often include many bells and whistles that you won't find on a starter-level Singer or Brother machine. So, whether you run an Etsy store or make quilts for your grandchildren, you might want to consider a Janome model as a reasonably priced but still high-end sewing machine.
Where is Janome Made?
For many years Janome manufactured all of its machines in Japan at its original headquarters, and the company continues to manufacture some parts and machines in Japan today. However, many Janome models get put together at factories in Thailand and Taiwan.
That said, Janome remains a company in its own right today and has not been bought out like most major sewing machine brands today. For example, singer, Pfaff, and Viking belong to a big conglomerate called SVP Worldwide today. Brother and Janome remain pretty unique in the world of sewing machines by remaining independent companies to this day!
Janome continues to operate its cutting-edge research center to constantly develop innovations and produce new sewing machine technology for its customers.
In the 1960s, Janome purchased an American sewing machine company called New Home. The company sold their Japanese-made models under this brand for a while, but they did not make the machines in America. You can find a lot of vintage Janome-made machines under different brand names, but the company produced them all in Japan.
The other question you may wonder is whether Janome machines have dropped in quality now that the company does not make them all at the original Japanese facilities. So the answer is a bit complicated.
First, no company makes sewing machines the way they used to. Years ago, sewing machines contained 100% metal components that lasted forever. This worked while sewing machines operated in a purely mechanical way.
Today, almost all sewing machines are computer-operated and contain many cheap plastic parts. This means they do not last as long but can complete much more complex functions.
So Janome machines today will not last as long as Janome machines made a long time ago. But they can complete much fancier, more complicated types of sewing as well!
When you check in with the sewing community as a whole, you will find that Janome sewing machines have a pretty solid rep. This is not to say that every sewer loves every Janome she has tried. Still, overall, Janome gets a lot of recognition for its innovative technology and easy-to-use sewing machines.
Janome Sewing Machine Prices: How Much Does It Cost?
Janome offers a broad selection of sewing, quilting, embroidering, and overlock machines for under $8,000. The brand also has a line of beginning sewing machines that sell for as little as $200 in some cases. As with most machines, models that feature many bells and whistles cost more, while less complex models that offer only basic functions will cost less.
You will also want to consider the kind of machine you want, such as a quilting machine vs a serger. Janome has pretty much any kind of sewing machine or equipment you could want, but sometimes you have to narrow down your search by the kind of function you want the machine to complete.
Janome Portable Sewing Machine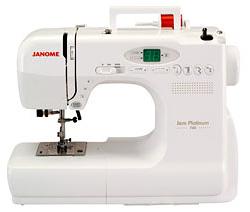 One of Janome's most adorable and fun lines of sewing machines is the Sew Mini line, selling for $89 from most dealers. These small, portable sewing machines look like toys but can sew for real! The Mini models weigh just five pounds and come in three different color options.
If you want to sew your own clothes or make a quilt, this is not the Janome model for you. On the other hand, if you want to help a child learn to love sewing or if you need a portable machine to take with you to a wedding or special occasion in case of accidents, this tiny machine has everything you need!
The minis feature four stitches, a bobbin winder, and minimal stitch length and width adjustment. They also have a high presser foot option but do not offer a reverse capability.
Janome Computerized Sewing Machine
Janome does continue to sell some purely mechanical sewing machines, but it primarily offers several lines of computerized sewing machines. These include the professional-grade Continental M7, Horizon Memory Craft line, and Travel Mate 30.
Selling for just under $8,000, the Continental M7 is Janome's newest, most advanced sewing machine. It won the 2020 reddot award and has a remarkable array of brand-new features for the experienced or professional sewist. You can read more about this highly innovative machine in the section below on Janome's most expensive sewing machine!
The Horizon Memory Craft 9450 currently sells for $5,499 from most dealers and features professional-grade elements like a sturdy needle plate and 350 different stitches. Based on the level of technology offered in this machine and the wide range of functions it provides, this machine would suit an experienced or home-business sewer.
Other cool things offered by the Memory Craft include:
USB Port and computer connection.
A touchscreen to set stitching options.
Janome's AcuFeed fabric feeding system.
It offers an excellent lighting system complete with four different lamps and has a sewing speed of 1,060 stitches per minute. It also has a variable zigzag for free motion quilting sewing and stitch composer software.
The Travel Mate 30, or TM30, is fully computerized but costs only about $350, depending on what dealer you buy it from. This machine offers enough functionality for many experienced sewers though it does not have many advanced features as the Memory Craft line. On the plus side, it comes in awesome colors like a vibrant metallic red!
If you buy a TM30, you can expect an LED screen to navigate stitch settings, 30 different stitching options, and a stitching speed of 820 stitches per minute. This model also has a memory buttonhole setting and an automatic needle threader.
What is the Least Expensive Janome Sewing Machine?
Janome's least expensive sewing machine is the 2212 that sells for around $169 from most American dealers. Janome offers a pretty good variety of mechanical sewing machines perfect for an entry-level sewer. A couple of them even come in a heavy-duty, more durable version that intermediate sewers might like, as well.
Janome has a rare reputation for offering decent, durable mechanical models that will hold up well over time for the hobby sewer. This is not the case for many sewing brands that tend to sell cheap, low-quality entry-level machines, figuring that beginners won't know the difference!
With Janome, you can expect good quality even from the beginner models such as the 2212, which offers an extra high presser foot and drop feed option, 12 stitches, and two vertical spool pins.
The Travel Mate 16, or TM16, commonly sells for a bit more at around $299 from most dealers. However, this mechanical Janome model offers 16 stitches, an auto-declutch bobbin winder, and a drop feed option. It also has a sewing speed of 650 stitches per minute and simple, streamlined stitch selection dials.
What is the Most Expensive Janome Sewing Machine?
The most expensive Janome sewing machine is the professional-grade Continental M7, just released in 2020 and selling for just under $8,000.
Experienced sewers often compare high-end Janome, Pfaff, and Bernina sewing machines to each other to determine which machine offers the best quality and durability. Janome has plenty of advocates for these qualities, but it also sells for about a third of what many other brands ask for their best sewing machines!
The M7 offers 400 stitches plus 1,300 stitches per minute, a seven-inch touchscreen mounted conveniently in the middle of the sewing machine arm, and a stitch tapering function. It comes with 23 presser feet, an automatic thread cutter, a needle plate mover, and a bobbin sensor. It also features access to a quilt block designer, the AcuSpark app, and stitch composer software.
Janome Sergers
Janome has quite a few sergers on the market, ranging from a professional-level five spool model to more affordable three and four-thread models such as the MyLock line. Unlike sewing or embroidery machines, sergers use multiple threads wrapped around the raw edge of the seam to encase and finish the seam while sewing. These complex machines sew at very high speeds and need strong motors to remain in good condition for a long time.
Janome's best, most expensive coverstitch model is the CoverPro 3000 that has a price of $1,500 to $1,700 depending on the dealer. This high-tech overlocker offers two or three needle options, up to five threads, and extra-large bed space for larger sewing projects. It also has a differential feed and an integrated main shaft ball bearing, making it super sturdy and durable.
On the lower end of the serger price range, Janome's MyLock line has several smaller, less advanced sergers like the MyLock 634D that sell for just $799. The 634D comes with two to four thread options and two needles. It comes with differential feed settings and an adjustable cutting tool.
Janome Embroidery Machines
Janome has a remarkable range of computerized embroidery machines on the market, offering something for everyone from the hobby sewist to the professional.
The Memory Craft 9900 has a giant, comprehensive touchscreen operating system. It comes with 200 stitches, 3MB of storage space, and 175 preset embroidery designs. It also comes with a USB set up so you can connect it to your computer and design, edit, or alter your own embroidery designs. Plus, it has an adjustable knee lift and a bobbin winder with a plate and cutting blade.
This machine comes loaded with almost every conceivable function or feature you could want in a brand-new embroidery machine. This paragon of embroidery machines sells for $3,999.
The Memory Craft 340e sells for two-thirds that price at a mere $1,999. It is one of the older models in the Memory Craft line, but it still has a USB port for computerized designs and 100 present stitching patterns. It has an LED touchscreen and a smaller hoop space but can still complete many advanced embroidery tasks!
Janome Quilting Machines
Janome's longarm quilting machines sell for an average price of $5,000-$8,000. That said, Janome's new Quilt Maker Pro 20, designed for professionals and complete with a massive quilting table, will cost close to $20,000 when it hits the market! Janome has a variety of longarm quilting machines on the market and one brand new one that remains on order right now but may provide revolutionary quilting tools in the near future!
Quilting machines have different shapes and different functions than the average sewing machine. Longarm quilting machines have especially long arms so they can easily reach across the broad, flat surface of a quilt.
To date, Janome offered a super high-end quilting machine called the Quilt Maker Pro 18, which sells for just under $8,000 like Janome's fanciest sewing machine. However, the Quilt Maker Pro 20 will become available for purchase soon, and this one will sell for up to $20,000, depending on what features come with it!
The Quilt Maker Pro 20 has a twenty-inch arm, a stitching speed of 2,500 stitches per minute, and an LED light ring mounted over the needle plate. It has a built-in diagnostic feature and multiple kinds of stitch regulation. It is fully computerized and offers a large touchscreen with design and editing tools.
Janome currently also offers the Quilt Maker Pro 16 and Quilt Maker Pro 18 that sell for a lot less and offer slightly older features but still come with all the digital tools and high stitching speeds you need for an advanced quilting machine.
Are Janome Sewing Machines Worth It?
Whether or not a high-end sewing machine like a Janome model is worth the price is a decision every sewer has to make for herself. Janome sewing machines have an excellent reputation, good quality, and complex functions and technology. The best models also cost several thousand dollars, which is not what every hobby sewer can afford to pay.
While it is ultimately a personal choice, there are several factors you can consider while weighing how much sewing machine you can afford to buy.
First, economy-level sewing machines, also termed beginner machines or entry-level machines, will offer you limited functionality. Sometimes this is all you need, of course! But you may grow frustrated if you want to try certain types of sewing this simple machine can't support.
High-end sewing machines always offer more features and functions. They often provide more options for customization as well. Overall, they have more automation, especially the newest computerized models with a digital component.
The fact of the matter is that once you learn how to use it, a fancy machine with a touchscreen will operate more easily than a basic mechanical machine. It will allow you to complete thousands of different sewing tasks that a basic machine cannot handle.
Another big factor to take into consideration is the longevity of the machine. By and large, Janome has a good reputation for durability. If you run your own business or sew professionally in any way, you may want to commit to this investment to make sure your machine will hold up if you use it heavily.
Finally, you will want to ask yourself what kinds of sewing you want to do. If you want to take up quilting, a basic mechanical machine probably will not suffice. A longarm quilting machine will make your life infinitely easier!
If you want to sew doll clothes for your grandchildren, though, you may find that a simple mechanical machine meets all your needs.
If you have researched Janome's models, you could also consider purchasing a used or refurbished model. This comes with more risk than buying it new from a reputable dealer, but it might offer you an affordable way to access the high-quality sewing machine you have always wanted.
What is a Reasonable Price for a Sewing Machine?
A reasonable price for a sewing machine depends on the kind of machine and what you want to use it for, but the average price of sewing machines ranges from $200-$5,000. Beginner-level machines often cost under $200, and professional-grade models often cost anywhere from $1,000 to as much as $20,000 depending on the brand and the technology included in the model.
The best thing you can do if you want a reasonably priced, high-quality sewing machine is to compare reviews on the most popular sewing machine brands like Janome, Singer, Brother, Bernina, and Pfaff. Make sure you know what features and functions you want. When you go to a dealer to purchase your machine, know your price point and stick to it.
One other thing to keep in mind is that Janome sells some of the most affordable high-end, professional-level sewing machines in the world. Competitive brands like Pfaff and Berninaalso offer fantastic sewing machines at a much higher cost!
Janome Dealer Near Me
One of the tricky things about buying sewing machines from Janome is that you have to purchase them from a dealer near you instead of buying them straight from Janome's website. That said, Janome is a big, popular brand and you can always find dealers nearby. Often local sewing stores get certified to carry all the major brands of sewing machines, which makes this easy!
If you prefer online shopping, you can also contact many certified Janome dealers through their websites and even make a purchase online that way. This does mean you don't get to test out the machine, though.
All certified dealers should provide Janome's warranty along with the machine. Make sure you clearly understand the terms of this warranty, such as whether or not you have to return to the dealer for any troubleshooting or repairs.
Where to Buy Janome Sewing Machines
You can buy new Janome sewing machines through local certified dealers. Most local sewing machine stores, as well as giant stores like Walmart, often have these certifications and offer a variety of Janome models. Of course, not every dealer will have every model in stock, though!
The best way to compare and contrast various Janome models is on the company website, which you can check out here. This will allow you to browse different kinds of machines, such as embroidery quilting or serger. You can also search by sorting the newest models at the top of the list, which can help you find the most high-tech, advanced models quickly!
What is Better, Janome or Singer?
Both Janome and Singer offer a wide variety of great sewing machines, but if you want to compare which is better, Janome or Singer, you will probably find that Janome offers more high-end machines while Singer specializes in affordable machines for less advanced sewers.
That is a huge generalization, as Janome offers some economy models and Singer also offers some computerized, highly advanced models. In general, though, Singer has great entry-level machines while Janoem focuses more on its high-end models.
Janome also remains an independent company that may have a bit more of its reputation on the line than Singer, which is now just one of many sewing machine brands owned by SVP Worldwide.
In terms of quality, durability, and high levels of functionality, Janome usually ranks above Singer. In terms of affordability beginner-friendliness, Singer usually wins!
Conclusion
Janome sewing machines range in price from $169 to as much as $8,000. The models vary from entry-level mechanical sewing machines to computerized, advanced longarm quilting, embroidery, or sewing machines.
Janome remains an independent company and offers many different models to meet every sewer's needs. As a brand, Janome has a good reputation for durable but affordable high-end machines. The brand's newest models all feature large touchscreen operating panels and advanced software and USB connectivity to allow computerized, modern sewing.