If you sew your own clothes or run a crafting business from home, you want a top-of-the-line sewing machine you can rely on. Advanced technology and precision craftsmanship help Pfaff sewing machines rank as some of the best in the world. But this level of quality comes with a high price tag, so you will also want to consider Pfaff sewing machine prices and how much these fine machines cost!
Pfaff sewing machine prices range from around $300 to computerized models that cost more than $20,000. Pfaff also offers a wide range of machines, such as embroidery machines, quilting machines, and overlocking machines. Bought new, Pfaff machines often come with specialized software and other technology add-ins.
In this article, you will find out what makes Pfaff machines so special. You will learn what Pfaff machines cost new and used today. Finally, you will find a comparison of Pfaff machines to other popular brands on the market today.
What Are Pfaff Sewing Machines?
Pfaff sewing machines have a reputation as some of the best high-end sewing machines in the world. The brand originated in Germany in the late 1800s, when Georg Pfaff launched a company to build innovative sewing machines. The Pfaff family owned the company until the 1960s, when Pfaff went public and eventually got bought out by several other companies.
Today, the Pfaff brand continues to thrive, though it is owned by SVP Worldwide (the same company that owns Singer and several other prominent sewing brands).
So, what makes these machines so special? For many years, Pfaff based its reputation on the precise mechanics inside each machine. Though modern Pfaff machines do not use all-metal parts as the older ones, they still last for many years because of their careful craftsmanship.
Besides the durability of Pfaff sewing machines, they also feature advanced technology. These days, nearly all Pfaff sewing machines are computerized to some degree. Most high-end models include Pfaff's innovative IDT, or Integrated Dual Feed system.
Many Pfaff machines at the mid and high end of the price range feature drop feed settings, a stitch speed slider, and even upper and lower thread sensors to let you know when to put in a new spool of thread.
On top of all this, Pfaff has its own cloud-based portal for users called mySewnet. You can download software for embroidery and quilting machines here, and learn how to make or edit your own designs, too!
In short, Pfaff has ranked as one of the best sewing machine brands of all time for more than a hundred years because its machines offer durability, high quality, and advanced technology.
Where Are Pfaff Sewing Machines Made?
Pfaff still has a base in Germany and probably designs most new machines there, but SVP Worldwide manufactures all its sewing machines, including Pfaff models, in China.
You may find this disappointing if you like the idea of a German-made machine. For many years, Pfaff did manufacture all its machines and even all the parts that went into its machines at its home base in Europe! But times change, and Pfaff has survived for so long because it remains an innovative brand that can change with the times.
The fact is that Pfaff machines continue to thrill users no matter where they are made. They offer a uniquely high-end sewing experience worthy of the often very high price they charge!
Pfaff Sewing Machine Prices: How Much Does it Cost?
Pfaff offers a small selection of entry-level sewing machines that cost around $300 on average, but most of their models fall into the mid and high end of the price range, reaching up to $20,000.
You should expect to pay around $1,000-$2,000 for a mid-level Pfaff sewing machine or starter-level embroidery machine. Pfaff coverlock and overlock machines (otherwise known as sergers) have an average cost of about $1,000, too.
What is the Most Expensive Pfaff Sewing Machine?
Right now, the most expensive Pfaff sewing machine is the Creative Icon 2, on preorder for just over $20,000. This new version of the Creative Icon will take Pfaff's already advanced technology to a new level. This model also functions as sewing, quilting, and embroidery machine all in one.
You may not find it feasible to pay more for a sewing machine than you would for most cars. But, despite that, you can at least admire the incredible design of this brand-new model!
The Creative Icon 2 offers AI technology and access to all the design tools available in mySewnet. It comes with a projector that can display bars and grids on your project as you work. It also features an innovative embellishment attachment that will help you with couching or ribbon work.
On top of all that, this machine includes the world's first voice recognition program in a sewing machine, too!
New Pfaff Sewing Machines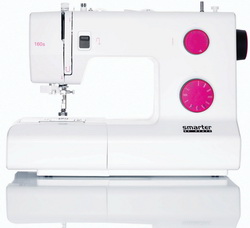 Pfaff has a strong lineup of new models on the market right now, including the Icon line, the Smarter line, and the Ambition line of models.
Each of these types of machines often includes multiple models. For example, the Ambition line features the 610 and the Ambition 620 models. Each model will offer slightly different features.
The Creative Icon and Creative Icon 2 stand head and shoulders above pretty much any other embroidery/quilting/sewing machines available, except some Bernina and Janome models. Of course, these incredible models cost between $16,000-$20,000, too!
The Ambition models have a sleek, minimalist design. Despite that, they offer pretty comprehensive functionality for mid-level sewing machines. You can buy an Ambition model for about $1,200 from American dealers.
Right now, Pfaff offers the Ambition 610 and 620 models, as well as an Ambition quilting machine. Ambition models provide 136 stitches and a speed slider to control stitching speed. The Ambition line also features IDT technology and an LCD screen display to help manage your sewing.
Pfaff's line of Smarter models focuses on the beginning sewer's needs. These machines cost far less, as little as $300 in some cases. These models offer more basic functions, such as a direct stitch selection and a stop-start button for free-motion sewing.
Currently, Pfaff sells the Smarter 260c, 160s, and 140s.
The best way to compare and contrast new Pfaff models is to visit the Pfaff website. The only downside is that you will not find any prices here. To purchase a Pfaff machine, you will have to find a certified Pfaff dealer. Most dealers do not post prices online either, so you may have to fill out a contact form to acquire that information.
Pfaff Serger
Pfaff's newest serger, or overlock machine, is the Admire Air 7000, selling for about $4,000. This overlock machine offers electronic air threading mechanisms and a touchscreen control panel. It features 26 different stitching patterns and a knee lift for hands-free presser foot manipulation.
Sergers have a bad reputation as difficult machines. But Pfaff may have designed such an advanced model that even beginners will find it easy to operate!
Besides this brand-new model, Pfaff currently sells two Coverlock models and two entry-level Hobbylock models. The Coverlock models sell for around $1,7000 and the Hobbylock models typically sell for about $500.
The Coverlock 4.0 and 3.0 models offer 5 threads and an LCD screen for stitch selection. They come with a large sewing area and differentiated feed and stitch length. As a fun feature, these machines even remember the last stitch you sewed when you turn them back on, so you start your project right where you stopped!
The Hobbylock line is the economy option of Pfaff sergers, but these models still have a lot to offer! This overlocker has four threads, a built-in rolled hem feature, and 15 stitch options.
Pfaff Quilting Machine
Pfaff offers both quilting machines and long-arm quilting machines. These range in price from the astronomically expensive Creative Icon to the more affordable Performance Icon and Ambition Quilting models. Pfaff also sells two long-arm quilting models, the Powerquilter 1600 and 1650.
The long-arm Powerquilter models can cost up to $12,000, but they come with a strong line-up of quilting features. These futuristic-looking machines have a 16" throat space and an 8" vertical space to make room for large projects. They stitch at 1,800 SPM and come with a touchscreen display and both cruise and precision stitching modes.
The Performance Icon costs around $4,000 and has a touchscreen Stitch Creator function. It also offers WiFi connectivity to sync with mySewnet and IDT technology. Though this is technically a mid-level quilting machine for Pfaff, it has a stellar reputation all in its own right.
The Quilt Ambition 630 is smaller and simpler and only costs $1,199. This more minimalist quilting machine still offers IDT, a speed slider, and 201 stitches, though!
Pfaff Embroidery Machine
Pfaff sells a line of advanced sewing and embroidery machines that cost around $4,000. These models, called the Creatives, rank as mid-level machines for Pfaff. They do not feature quite such advanced technology as the Creative Icon line.
The newest Creative model is the 4.5 version, though Pfaff still sells the 1.5 and 3.0 versions as well at a slightly lower cost. These embroidery and sewing machines feature a large embroidery area and IDT technology. They also offer Pfaff's stitch creator function that allows you to edit and alter stitch structure to create your own unique designs.
These models include 480 different stitches, 11 presser feet, and ribbon and stacked stitching options. They also have precise position technology that allows you to overlap or align designs exactly as you want.
The $20,000 Creative Icon is kind of like a spaceship in terms of advanced technology, but the $4,000 Creative line is pretty advanced too. You could think of it as an electric Tesla instead of an average gas-powered Honda in the sewing machine world! If you want a high-tech, fast, durable embroidery machine, the Creative models offer a lot.
Used and Refurbished Pfaff Sewing Machines for Sale
You can find used and refurbished Pfaff sewing machines for sale from your local Pfaff dealer and online sellers such as eBay and Amazon. You can also track down models ranging in age from very old vintage Pfaff models to quite new models. That said, even used Pfaff machines demand a pretty significant price in most cases.
This happens partly because Pfaff models offer such advanced features. The other key reason used Pfaff models still cost a lot is that they have a reputation for durability. So you can expect them to remain in good condition even after years of use!
On the other hand, you miss out on a warranty when you buy used instead of new. You also do not get access to mySewnet free of charge and will have to decide if you want to pay for it.
You may also want to consider the age of the used machine before buying it. Truly vintage machines made before 1960 should contain solid metal parts. Any skilled vintage sewing machine technician can probably get the machine running for you.
But computerized machines made from the 1980s to about the 2010s may contain outdated technology. Do you want an embroidery machine that runs on a floppy disc? Probably not!
If you buy one of these models, you may find yourself stuck with technology that no one bothers repairing anymore. Computers have changed too much in the past decades!
If you choose to buy a more affordable pre-owned Pfaff model, make sure you go to a reputable seller. A local sewing repair technician who has refurbished the machine can guarantee its condition. If you buy from a random eBay seller, you may end up with a dud on your hands!
Of course, used and refurbished Pfaff machines will have extremely varied prices. Pricing depends on the age and condition of the model and the certification of the seller.
For instance, you may find a reputable Pfaff dealer selling a refurbished Creative model for around $2,000, half the listed price for a new model. But you can also find old Pfaff models listed as "broken" or "as is" on eBay for as little as $70.
How Good Are Pfaff Sewing Machines?
Pfaff, Bernina, and Janome sewing machines are usually considered the best in the world. No two sewers will agree on what model or brand is actually the best of all time, but you can count on the fact that Pfaff machines are very, very good!
When you ask the sewing community about the quality of Pfaff sewing machines, you will find diverse opinions. Debates rage over whether today's Pfaff models live up to the standards the company held before SVP Worldwide bought it out.
Other sewers insist that no sewing machine made after 1970 is any good. They claim that modern computerized models do not tend to last as long as purely mechanical models.
But everyone does agree that Pfaff machines deliver on their promise of innovation and durability.
Are expensive sewing machines worth it? This question can have many different answers depending on your personal sewing needs.
Most sewing brands offer economy models selling for under $300. These machines can perform fundamental sewing tasks competently. They cannot sew for hours on end without burning out the motor.
That said, a beginner model will do just fine if you like to sit down and sew for an hour or so every week.
But do you like to create intricately embroidered artwork? Or perhaps you run an Etsy shop and have to sew three hours a day to fill all your orders. In this case, you will probably find that an economic model cannot keep up with your needs.
A high-end sewing machine offers more advanced technology, greater durability, and more specific functions to aid the more experienced sewer.
Ultimately, only you can make the cost-benefit analysis. Is a pricey-but-advanced sewing machine worth several thousand dollars? You will have to decide for yourself!
Where to Buy Pfaff Sewing Machines
You can buy Pfaff sewing machines from certified local dealers or many online shops and sellers on eBay and Etsy.
Unlike many companies, Pfaff does not sell machines directly from its website. Instead, you can use the Pfaff website here to find a local, certified Pfaff dealer.
You can often purchase a machine from the dealer online, or you can choose to visit the store in person and check out the machine. Since Pfaff models cost so much, this local presence does make a difference and can help you select just the right machine to meet your needs.
You will probably pay much less if you buy a used Pfaff model from somewhere like eBay or Etsy. However, you will not get the accountability of the Pfaff warranty and brand reputation when you do this. Buying from a certified Pfaff dealer guarantees you perks like the Pfaff warranty.
Pfaff Vs Bernina
When you compare Pfaff and Bernina sewing machines, is one better than the other? Pfaff and Bernina sewing machines often compete for the top spot in world-class rankings. In fact, the brands have maintained this competition for more than 100 years!
Bernina is a Swiss company founded in 1893, shortly after Pfaff started. Unlike Pfaff, Bernina remains a family-owned business. It is famous for its intricate and expensive sewing machines.
You will not find a definitive answer to this question by asking the online sewing community. Sewers who use Pfaff or Bernina models tend to have extreme brand loyalty, so each person will think her brand is the best!
In terms of quality, durability, and innovation, Pfaff and Bernina usually end up in a close tie. Every model has its own unique features, of course. But in general, both brands pride themselves on offering the highest quality you can find anywhere in a sewing machine.
Pfaff models sometimes have a slight edge when it comes to technology. For instance, for a long time, Pfaff machines had a higher stitch speed per minute than Bernina models, though this gap has closed in recent years.
The one area where Pfaff does not really shine is appearance. Pfaff models have a very solid, simple design. This minimalistic style can help sewers navigate complex technology. But it does not look as cute or trendy as many other sewing machines on the market.
When you compare pricing, you will find little to no difference between Pfaff and Bernina. Both charge around $1,000-$2,000 for a mid-line sewing machine. Both brands offer mid-line embroidery and sewing machine for around $4,000.
And, of course, both Bernina and Pfaff sell their newest, cutting-edge models for up to $20,000!
How Much Does it Cost to Service a Pfaff Machine?
It will usually cost at least $100 just to get an estimate on a repair for your Pfaff sewing machine. After that, your technician will charge either by the type of repair or the amount of time it takes to make that repair.
While this may seem like a steep price to pay, remember that some Pfaff machines cost as much as a car! You would have to pay this much to take your car to a mechanic as well.
Modern Pfaff models have intricate, complex computerized parts. They also contain all of the basic mechanical components you would find inside any sewing machine. This combination of technology and moving parts gets quite complicated.
Things like AI and IDT technology truly require a specialized, certified technician. A Pfaff technician will make adjustments without damaging the expensive equipment.
If you bought your machine new, keep in mind that your warranty will have terms and conditions. These terms will mandate where you need to take the machine for servicing and repairs. Make sure you don't accidentally void the warranty by going to a local, non-certified shop!
How Long Should a Pfaff Sewing Machine Last?
Pfaff sewing machines have a reputation for durability and offer extended warranties of up to 20 years in some cases. Some models offer warranties of five or ten years instead. In almost all cases, you will get at least a two-year warranty when you buy a new Pfaff model.
Here's the thing, though: models like the Creative Icon 2 just released. No one knows yet how long the complex technology in these machines will hold up.
You can buy these relying on Pfaff's reputation for quality and durability. But you can't know for sure how long they will last.
But older, mechanical models do last forever. You can find sewers still using a Pfaff sewing machine made in the 1920s! The all-metal Pfaff models, made in the glory days of sewing machines before the 1970s, will run for decades to come with proper care.
The bottom line is that the sewing community does hold Pfaff models in high esteem because of their typical longevity. The average lifespan of a modern sewing machine is about five years. Pfaff models have an expected lifespan of at least 20, just based on the warranties Pfaff offers.
Conclusion
Pfaff sewing machines can range in price from economy models selling for less than $300 to the latest AI-powered machine that costs $20,000. Pfaff sells high-end sewing, embroidery, and quilting machines. These models offer some of the most advanced sewing machine technology in the world.
Pfaff sewing machines feature technology such as IDT, thread sensors, and electronic air thread capability. Some models offer knee control of the presser foot and/or AI and voice-recognition capabilities. Most new models have touchscreen control panels to manipulate stitch speed, type, and design.